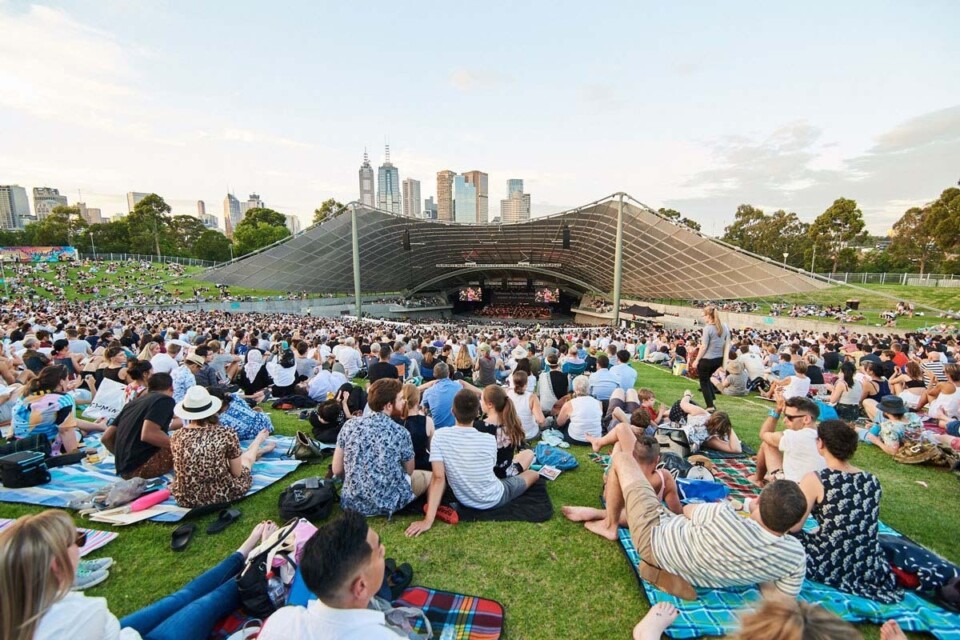 For more than 90 years, Melbourne summers have been punctuated by the MSO's annual free concert series.
Join us for one, two or all three nights in February as we play under the stars.
Free entry - no bookings required. Gates open at 4pm with entry on a first-in basis.
A Symphonic Soiree
Wednesday 9 February at 7.30pm | Gates 4pm
Sidney Myer Music Bowl
Featuring
Melbourne Symphony Orchestra
James Judd conductor
Caroline Almonte piano
Program
Franck Le Chasseur Maudit
Hyde Piano Concerto No.2
Bianca Gannon New Work for Orchestra and Indonesian Instruments (World Premiere of an MSO commission)
Delius Summer Evening
Ravel Daphnis et Chloe: Suite No.2

Internationally-renowned conductor James Judd joins the MSO at the iconic Sidney Myer Music Bowl for a symphonic soiree under the stars!
Franck's symphonic poem Le Chasseur Maudit ­– The Cursed Hunter tells the story of a hunter, cursed for violating the Sabbath, and damned to be pursued by demons forever. This exciting and evocative piece features ominous horn calls and suspenseful strings, building to urgent terror in this orchestral thriller.
Miriam Hyde is one of the most celebrated Australian composers of the 20th century. Her Second Piano Concerto journeys through passages of romantic harmony, melodic lyricism, and flying virtuosity in this performance by acclaimed Australian pianist Caroline Almonte.
English composer Delius takes us by the hand for a sunset walk through the British countryside in his stunning tone poem Summer Evening.
Commissioned by Diaghilev for the renowned dancer Nijinsky, this beautiful suite of music from Ravel's one act ballet Daphnis et Chloe is French impressionism at its most picturesque and vivid. As day breaks in a sacred grove and the cool hues of dawn give way to the warm light of the day, Daphnis and Chloe throw themselves into each others' arms.
Duration: approx. 2 hours including interval
An Evening of John Williams
Saturday 12 February at 7.30pm | Gates 4pm
Sidney Myer Music Bowl
Featuring
Melbourne Symphony Orchestra
Jessica Gethin conductor

Celebrate John Williams' 90th birthday with a selection of his greatest hits from Star Wars, Indiana Jones, Harry Potter, Schindler's List, Jurassic Park and more.
Program
All works by John Williams
Star Wars Suite: Main Title
Saving Private Ryan: Hymn to the Fallen
Harry Potter and the Sorcerer's Stone Suite: Hedwig's Theme
The Witches of Eastwick: Devil's Dance
Memoirs of a Geisha: Suite for Cello and Orchestra, The Chairman's Waltz
E.T.: Adventures on Earth
The Olympic Spirit
Schindler's List: Theme
Hook: Flight to Neverland
Star Wars Suite: Yoda's Theme
Star Wars Suite: Imperial March
Jurassic Park: Theme
Duration: approx. 105 minutes including interval
One Song: The Music of Archie Roach
Saturday 19 February at 7.30pm | Gates 4pm
Sidney Myer Music Bowl
Featuring
Melbourne Symphony Orchestra
Benjamin Northey conductor
Archie Roach
Paul Grabowsky piano and collaborator
In 'One Song' (realised with MSO Composer in Residence Paul Grabowsky AO) Archie Roach sings up a Big Idea: that we have mapped our journey as human beings across the oceans and lands of the world through song, that we have sung the world into existence, into meaning, and that the common thread of song links back to an origin, to the birth song of all things.
Duration: approx. 75 minutes, no interval

The Sidney Myer Free Concerts are made possible by the MSO Sidney Myer Trust Fund, in association with ABC Classic, The University of Melbourne and Arts Centre Melbourne.

MSO Premier Production Partner